How resistance should be
Please watch this clip first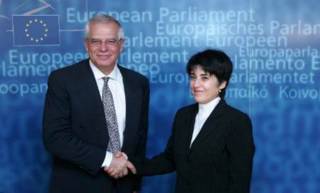 I think the others would do a much better job discussing Leyla Zanas speech to the european parliament today, but here's just a brief note about her
The picture above is of her finally accepting the Sakharov prize (EU human rights prize) which she awarded 9 yrs ago.
So what's the big deal with her exactly?
She was a parliamentarian and a kurdish rights activist in turkey who has been jailed for 10 years. Her crime? Adding this sentence in kurdish after she was sworn into parliament "I shall struggle so that the Kurdish and Turkish peoples may live together in a democratic framework".
She couldn't be charged at the time due to political immunity but 3 yrs later once her immunity was taken away and her democratic party declared illegal she was arrested alongside Selim Sadak, Hatip Dicle and Orhan Dogan (members of her party) with charges of treason and were subject to the very best of turkish hospitality for 10 yrs (think on an abu ghraib scale)
During her jail-time she became a symbol of the kurdish struggle in turkey, especially highlighting the brutal oppression the Turkish government had on kurds (banning of kurdish names, language, songs or political parties that address it's issues).
Regardless of what she has suffered and what she may suffer (there are attempts to re-try her again) she still doesn't harbor any animosity towards the turkish government and still hopes for dialogue with them.
All this and, apart from a few really hardworking campaigns and individuals, the world's conscience has been mute to her case and there exists an almost complete media black hole regarding her situation.
For more info about her
here's a report from amnesty USA